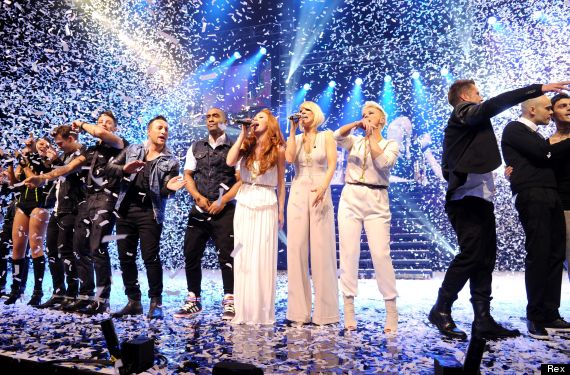 Last night I was at London's Hammersmith Apollo for the much touted 'one off comeback gig', the culmination of the months of hard work and preparation by the six acts on ITV2 show The Big Reunion. Since my last post about the show there have been some changes - firstly an arena tour was anounced, and this one off gig was now just a warm up for things to come. Secondly, boyband Blue belatedly joined the lineup despite having been reunited for a few years now having represented the UK at Eurovision in 2011 with I Can (they came 11th since you asked, top five in the public vote but the juries pulled them down). They've also been enjoying success on the continent with recent single, the ballad Hurt Lovers, going top ten in Germany a few weeks ago. Nevertheless Blue were in attendance alongside the recently reformed 911, B*Witched, 5ive, Atomic Kitten, Honeyz and Liberty X.
The show lasted for almost exactly two hours and was absolutely brilliant. 90s presenting legend Andi Peters introduced the acts onto stage and 5ive, now technically 4our since Jay didn't rejoin the lineup and the much touted new fifth member never came to fruition, kicked off the show. Before the concert I was wondering how many songs each band would sing and what their choices might be. Each band performed either three or four songs each, a medley of two hits in place of one full song if they preferred. Each act took it in turns to come back to the stage and perform a song, before introducing the next one to come on. 5ive kicked off proceedings to a rapturous reception from the elated audience with a medley of their Queen cover/collaboration We Will Rock You and the 1998 hit Everybody Get Up. Later on they sang the excellent Keep On Movin' and provided the penultimate performance of the night with If Ya Gettin' Down. I'd have switched the order of those around seeing as the former is arguably their signature track but I'm just nitpicking. 5ive got by far the biggest crowd reception of the night and you suspect would comfortably sell out a few arenas were they to tour by themselves as many of their big hits were left untouched. They were hugely energetic and seemed genuinely pleased to be back on stage.
Irish girlband B*Witched were the second act to perform, and did so with the 1998 classic C'est La Vie! It was pretty amazing to see this performed live, it came out when I was in primary school and had never even been to a live concert before, I certainly didn't expect to ever see this song in a live setting and the girls looked great in a more mature take on their old double denim look. The Irish jig middle eight remains amazing and it was great to see them go all out with it. Later on they sang Rollercoaster, which was possibly my favourite performance of the evening, complete with the cheesy dance routine and state of the art (read: not really) rollercoaster graphics accompanying them on screen! And their third performance, complete with umbrellas and falling confetti, was their fourth No.1 single, Blame It On The Weatherman. It's a shame that the gorgeous To You I Belong was left out but all credit to them, they gave three excellent 'event perfomances' and were one of the best acts there in my opinion.
Boyband 911 who performed third predated the other bands by a few years but their biggest hits all came in the 1997-1999 period so fitted in with the show and target audience nicely. They visited my primary school back in early 1998 and it seems strange to think that I last saw them live fifteen years ago! They were something of a revelation. To say that they were my least anticipated act of the evening, Bodyshakin' was fantastic, complete with lots of stunt dancing and jumping around. For a second you forgot that the trio were either about to turn 40 or were already long past it. Their 1999 chart topper A Little Bit More provided an unexpected mid-tempo audience singalong moment whilst Bee Gees cover More Than A Woman was great fun. Lead singer Lee Brennan was on point and sounded fantastic throughout whilst Spike and Jimmy have still got the moves!
Liberty X's success came quite a few years after the other bands here, they formed in 2001 and had hits throughout the 00s. Understandably, there was therefore less nostalgia appeal here but they still gave a very credible set of performances and looked great. The classic Just A Little went down very well whilst the medley of debut hit, the brilliant Thinking It Over and their Mantronix cover Got To Have Your Love was brilliantly executed. Their final performance was the Chaka Khan cover/Richard X mash-up Being Nobody which is exactly a decade old but still sounded as fresh as ever. It's a shame that the fantastic Song 4 Lovers was missed out, but understandable as it wasn't as well remembered as those songs were.
Girlband Honeyz were by far the least anticipated act of the evening from an audience's point of view. Admittedly they were in a lower league to the other acts here success wise, having never scored a top three single or top ten album in the UK. That said, I always thought that they were great and lead singer Celena Cherry delievered what I thought was by far the best vocal of the evening. It's just a shame that a huge chunk of the audience took the opportunity to sit down or go to the toilet whenever they performed! They kicked off their set with the excellent Finally Found whilst their second performance was a medley of the forgotten 1999 single Love Of A Lifetime and the 1998 classic End Of The Line. The former was met with a blank expression by most of the audience, I can't have been the only person that remembered and loved this song? The latter was great though, especially the biting lyric 'I deserve some damn res-pect' which we all had a good singalong to! And kudos to them for getting the old blue coats from the video out again, very nice touch! I let out a huge cheer for all of their performances anyway, because nobody else seemed to want to! They rounded off their set with the feisty 2000 hit Won't Take It Lying Down which had a brilliant stage set up, and the crowd seemed to be more into this one.
Boyband Blue were an unexpected addition and a lot of the crowd let out a gasp when they were announced to be coming on, clearly the word hadn't spread to everyone! With so many hits to choose from, they eventually settled on debut single All Rise, 2002 anthem One Love and its follow up the chart topping ballad Sorry Seems To Be The Hardest Word, albeit without Elton John. They were vocally sharp, Lee Ryan especially and looked more slick and professional than the rest of the acts but it was probably no surprise considering they've actually been back together and performing again for years!
And Atomic Kitten were the last to perform, so arguably the headline act although they were probably on par with 5ive (somebody had to go first and last!). Their first performance was debut single Right Now which is incredibly well remembered for a flash in the pan No.10 hit. It was reissued and got to No.8 in 2004 so probably picked up some more fans then. 2002 summer chart topper The Tide Is High (Get The Feeling) was their second performance. This of course originally had Jenny Frost on vocals so Kerry Katona, who has now rejoined the band having been with them for their first few hits, had to learn the lines for this one! And they closed the whole show with the huge 2001 No.1 hit Whole Again which actually sounded really anthemic in a concert setting. I'd always wondered how on earth it became so big in the first place, being such a simple sounding pop song which turned their career around from on the verge of being dropped to being the UK's biggest girlband for a few years! Kerry had left the band just before that song became huge but radio still used to play the version with her vocals on it, so it was almost heartwarming to hear her sing/speak the 'for now I'll have to wait, but baby if you change your mind...' middle eight.
At the end of this emotional performance everybody returned to the stage to reprise a final chorus of Whole Again and it was quite a spectacle to see all of these classic bands performing on stage together. Overall it was an absolutely excellent night, packed with nostalgia, great songs and a very enthusiastic largely 20 and 30 something audience, who like me would have been at primary school or high school when these artists were huge the first time around. It was a slick production and didn't feel cheap and tacky at all. I look forward to watching it on the TV at the end of March and everybody going to the arena tour will have an amazing time, it was well worth the decade or more wait to see these acts all over again! Now onto series 2 and let's hope for S Club 7, Hear'say, A1, All Saints, Another Level and Precious!